In the summer of 2019, Manchester United were linked with moves for two midfielders to fill the void that the team, much like the UK government, had at number 10. It would've seemed just as impossible as Rishi Sunak and Penny Mordaunt simultaneously becoming the new Prime Minister for Manchester United to recruit both Bruno Fernandes and Christian Eriksen that summer. However, neither ended up joining the club and United fans painfully waited until January for Fernandes' arrival. Now, though, United find themselves with both players amongst their ranks after all.
A lot has happened in the time that it seemed Ole Gunnar Solskjaer would make a move for one of the two playmakers. After his January 2020 arrival, Fernandes has established himself as Manchester United's vice-captain and has scored fifty goals for the club. Eriksen left Tottenham, moved to Inter Milan and won the Serie A. He then suffered a cardiac arrest and came back to life playing for Denmark in the Euros, and then returned to England keeping Brentford in the Premier League. In that time, Eriksen has maintained his quality, and whilst he was never especially quick, has moulded his game into a more technical and less physical one than before. Fernandes was often lamented for his tendencies to force things last season – and whilst this is heavily symptomatic of playing in a team with little structure – Eriksen will look to do the opposite and offer more security if he plays instead of the Portuguese. However, Eriksen has begun to move further back down the pitch since his Tottenham days – and it may transpire that he plays behind Fernandes, rather than instead of him. Furthermore, Fernandes will in all likelihood be able to better showcase his true qualities this season, with more structure and less frustration in his play. So, where does that leave Eriksen?
The Number 10
Many of Eriksen's days at Tottenham following his 2013 arrival from Ajax saw the Dane feature in the number 10 position. In 542 senior club matches, Eriksen has played most frequently as a number 10 with 252 appearances there. It is a testament to his versatility that this number, as a percentage, seems so low.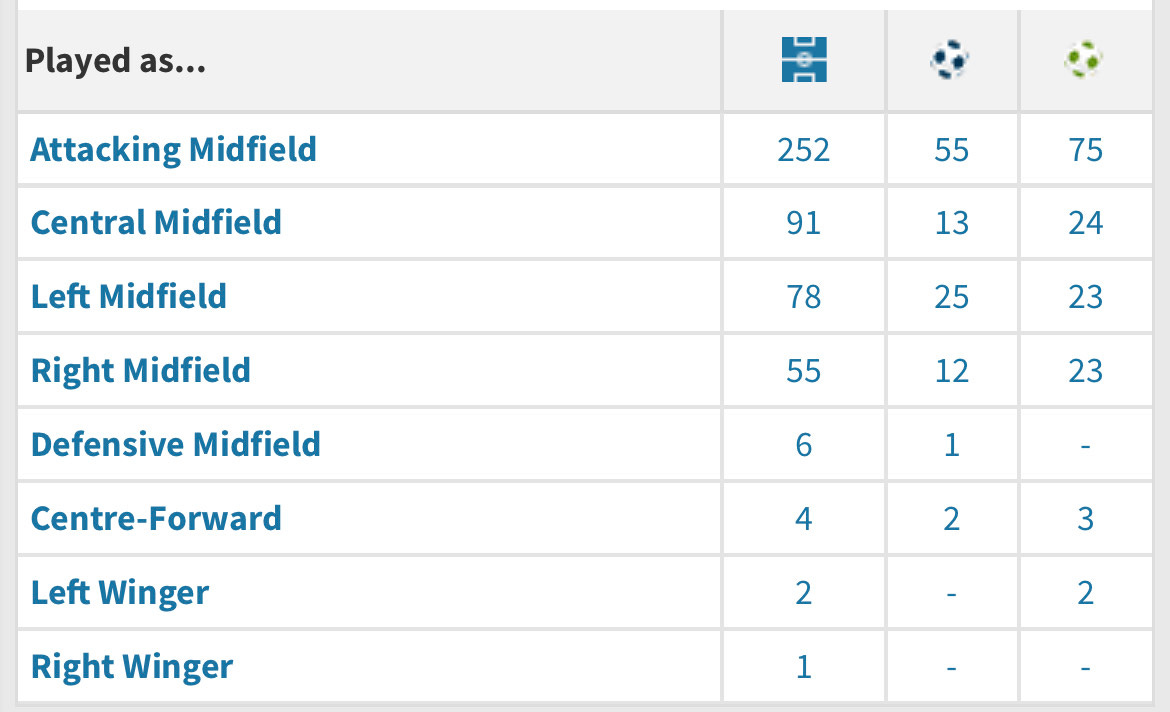 Frequently, Eriksen would line up behind Roberto Soldado or Harry Kane in a 4-2-3-1 formation. He provided balance to Spurs, being able to receive the ball in a variety of positions and drift across the pitch to cross the ball into the box, link up with the striker ahead of him and bring the likes of Nacer Chadli, Erik Lamela and later Son Heung-Min into play. As a number ten, Eriksen often scored goals running off the striker, arriving later into the box. However, he has always had an excellent ability to strike the ball from range which he consistently showcased in this position: popping up in spaces around the edge of the box, often shooting with a signature low drive into the bottom corner.
He can be incredibly effective as a number ten due to such a high volume of link play and interchanges which are vital in breaking down low blocks. The problem is, Bruno Fernandes has nailed that position down. If preseason is anything to go by, Erik ten Hag will look to utilise as 4-2-3-1 this season: this leaves room for only one number ten.
This season, however, is different to any other before it. Not only does a hangover of the pandemic still plague the football schedule across the globe: there is also a winter World Cup to contend with. From September until the beginning of the controversial tournament in Qatar, Manchester United will be fighting on three fronts and playing three games each seven/eight days. The Europa League will dominate Thursday nights for three of those weeks whereas the Carabao Cup will keep United busy in the weeks that they do not play in Europe's second tier competition. One of the lesser-spotted 'Covid silver linings' was certainly FIFA realising just how effective the five sub rule is in football, and this will also be a permanent fixture next season. The point is: there are plenty of games to be played next season. Bruno Fernandes was burnt at out the back end of 2020/21 and needed a rest for most of 2021/22. The problem was that his understudies were either not good enough (Andreas Pereira and an aging Juan Mata) or too stylistically different for the team to maintain its albeit limited patterns (Donny van de Beek and Jesse Lingard). Eriksen is able to emulate Fernandes in the sense that he can find difficult passes over long and short ranges, is a capable athlete with exceptional work-rate, an excellent communicator and leader: and moreover is able to mimic his particularly high output in goals and assists. If Eriksen is to be 'backup' then he is probably the best backup United could've got, given his quality, experience, and the fact that he was a free agent. Eriksen is a luxury option to have as a number ten instead of Fernandes.
The wide creator?
Eriksen is a signing in midfield who will probably take many of the minutes vacated by Paul Pogba's departure. Like Eriksen, Pogba was probably not signed to play on the wing for Manchester United but played some of his best football at the club on the left flank. Eriksen will probably not have to be shoehorned into the side in this way – Pogba mainly played there in order to facilitate his defensive frailties and positional indiscipline – but could probably carry out a similar role to the World Cup winner if required. Whilst Eriksen is nowhere near as dynamic as Pogba, he has an similarly apt range of passing and technical security. Coming in off the flank to link the different departments of the team, allowing Luke Shaw (or indeed Tyrell Malacia) to overlap is a possibility. However, whilst Eriksen was never blessed with incredible pace, he is not as quick as he once was and this lack of speed could be an issue if Jadon Sancho is lining up on the other wing. Whilst United will likely dominate the ball and won't look to counter attack too often in most games under Ten Hag, it is important to have runners in wide areas in modern football. Sancho and Eriksen on the flanks would look to link the play and move with the ball more than without it, a la Marcus Rashford, Anthony Martial or Anthony Elanga. Therefore, were Eriksen to feature on the wing, it would probably be on the right hand side to deputise for Sancho – who appears to be very much first choice in that position for the early part of the season – rather than on the left opposite him.
The Lasse Schöne
This is where things get very dangerous. This is the tactico's delight, football being played on paper not the pitch, maybe a trip to fantasy land rather than reality. But Erik ten Hag is bold and the similarities to how Lasse Schöne was deployed at Ajax and the profile of Christian Eriksen are difficult to ignore. If Ten Hag's wishes are granted and Frenkie de Jong ends up in the red of United this summer, he will almost certainly use him in exactly the same capacity as he did at Ajax. In the fabled 2018/19 Champions League run, De Jong's role as the deepest midfielder was supplemented by the work of Eriksen's international teammate Lasse Schöne. The Dane was a technically astute, hard working midfielder who was excellent at set pieces. Sounds familiar, right? For most of his career Schöne has been considered as more of a box to box midfielder rather than a defensive one, but in this Ajax team he made a few more defensive contributions than elsewhere in his career. Eriksen barely did any defending for Brentford last season and would have to tweak his game if he were to emulate Schöne but it is possible that he could feature in a midfield three comprising of himself, De Jong and Bruno Fernandes. However, serious question marks must be asked about the credibility of this, given the physicality of the Premier League and the lack of defensive cover in that system. However, were all of these players amongst Pep Guardiola's roster, you would not be surprised to see him deploy them in tandem, making up for a lack of defensive cover on breaks by the use of inverted full backs and the cheat code of Kyle Walker's pace. It is a shame to say it but the level that Guardiola has Manchester City on is precisely where United would like to be; so maybe it wouldn't be too unthinkable after-all?
De Jong deputy
Much like Bruno Fernandes, Frenkie de Jong (if captured) will not be able to feature in every game due to the extreme volume of them. It would not be difficult for the tactically flexible Eriksen to do a job in his position were he unavailable. Eriksen cannot carry the ball or beat defenders in the way that De Jong can, but with some delegation to Scott McTominay needed, Eriksen is the best possible understudy due to his range of passing. Whilst the signing of Eriksen is unlikely to permanently spell the end of the often harshly lamented 'McFred', if De Jong doesn't play he is the most appropriate understudy. However, if United do secure the Dutchman this summer, it is likely that he will feature in the vast majority of games anyway.
---
The beauty of the Christian Eriksen signing is that he is tactically and technically flexible enough to play in most of the positions in midfield. He has done throughout his career. His technical security and press resistance will be vital for Erik ten Hag, and coupled with the likes of Frenkie de Jong and Lisandro Martinez: he significantly raises the technical level within Manchester United's squad. However, it is his experience which will be one of the most vital assets to a United midfield who often appeared flustered and panicked last term. The signing is finally over the line after a long medical process, and being fitted with an implanted cardioverter-defibrillator will ensure that a repeat of what happened to him in Euro 2020 is almost impossible to reoccur. Whilst Eriksen will not join United's pre-season tour, he will be able to feature in either the Atletico Madrid game on June 29th in Norway or the game against Rayo Vallecano at Old Trafford the following day. It's time to sit back and enjoy one of the most gifted players in the Premier League work his magic.